Signed For
Whilst our standard postage service will get your item to its destination, there are occasions when only a premium choice will do. Our range of premium postage options allow you to have tracking or a compensation option added to them.
Our Signed For premium service offers added security as it requires the recipient to sign for the item on delivery.
Why choose Signed For?  
Proof of delivery including a signature from the recipient 
Check online when your item has been delivered
Includes compensation cover up to £30 in the unlikely event of loss or damage* 
The postage rate you pay will be calculated by the format, weight of item and destination of the item, with the additional price of the Signed For option shown below. 
| Premium Option | Local | UK, IoM and other CI | Europe | Rest of World | |
| --- | --- | --- | --- | --- | --- |
| Signed For | n/a | £2.95 | £3.95 | £4.95 | |
Example
Sending a large letter of 500g to Portugal that you want a signature for on delivery:
1.

Choose Standard postage for Large Letter up to 500g to Europe

£9.08

2.

Choose Premium Signed For option to Europe

£3.95

Total price to pay:

£13.03

Buy your postage label online
Find the right price for your item and print postage from your computer using our postage calculator tool. Postage labels that are created online meet the new EAD customs requirements, and you'll receive a 2% online discount on our standard postage rates.
*Our compensation cover does not include cover for delayed delivery.
Adverse weather may impact on services as they are reliant on the arrival and departure of the ferry.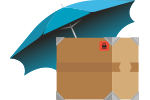 Protect your items
Sending something valuable? Add compensation cover to your postal items for better peace of mind.
Find out more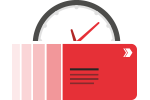 Need your item delivered quickly?
Express delivery is a premium option that can be added to any item to ensure a speedy delivery.
Express Delivery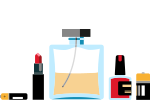 What can I send?
Did you know some common items such as nail varnish and batteries are considered dangerous and restricted from being sent in the postal network?
Find out what is safe to send