Customs requirements for sending off-island
Driven by Universal Postal Union (UPU) regulatory changes, anyone sending parcels overseas must provide electronic pre-advice customs information. This includes information on the sender, the recipient, and the details of the contents within the parcel.
In the past, when sending items to the UK or International destinations, you would have completed customs declarations on a handwritten CN22 or CN23 form. However, authorities around the globe now require more information electronically and in advance of items arriving at their destination if they contain goods.
To save you time, the required customs information can be submitted online, from the comfort of your own home, when you purchase postage labels online. The postage label you create online will include the required customs information.
From 1 April 2022, handwritten CN22 and CN23 forms are no longer accepted when sending overseas.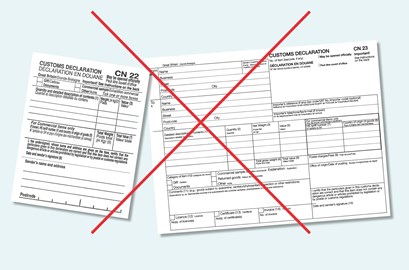 Electronic Advance Data (EAD) is now required electronically and in advance of the goods arriving at their destinations. This is to enable speedy customs clearance, enhance global security and improve delivery processes. Please note this is not required for sending letters or document items or sending locally.
What happens if you don't comply?
It's really important to complete this information online before sending any items. Without the correct customs information, your items could be held in Customs at the destination country and will be delayed, returned or even destroyed. In some countries, the postal authority will even charge the recipient a handling or admin fee, if queries are raised as a result of incomplete customs information.
Returning an item?
Retailers should be supplying customers with return labels that are EAD compliant. However, if you have an item to return and you haven't been supplied with an EAD return label, you can continue to use the handwritten CN22 and CN23 labels for return packages for the time being. Please ask at any post office counter for these labels.